DeKalb Police respond to 'brazen' double shooting | News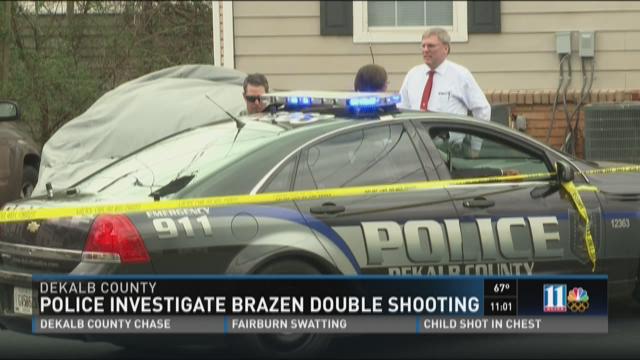 DeKALB COUNTY, Ga. -- DeKalb County police are investigating what they're calling a brazen double shooting that happened in broad daylight.
As of Sunday afternoon, two victims are in the hospital and a suspect is still on the loose.
11Alive's Ryan Kruger went to the Highlands of East Atlanta apartment complex to gather new information.
Police said the two victims were shot several times.
They said they found at least 10 shell casings, though it's not clear if there were shots fired back and forth or if it was one person doing all the firing.
Witnesses said the two men were standing in the breezeway in one of the buildings here at the Flat Shoals road area complex when someone walked up and started shooting.
The two victims were taken to the hospital and, right now, their condition is not known.
Neighbors said there is a lot of gang activity in these apartments and they believed the shootings may have been retaliation. Police, though, are not willing to go that far.
"We have no indication about motive or the reason why this occurred today at this point in time," DeKalb County Police Lt. John Medina said.
Police do have a suspect description but they're not releasing it at this time.
PHOTOS | From the scene